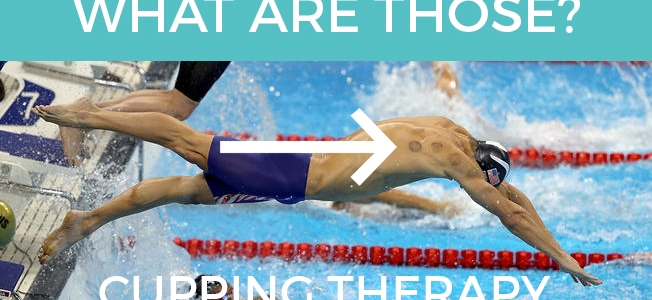 What is Cupping and why does Michael Phelps swear by it?
What is Cupping?
Cupping is a therapy in which glass jars or cups are suctioned onto the skins surface with negative pressure. Traditionally, cupping has been used in Chinese medicine for 1000s of years to open up meridian pathways to allow Qi to flow through. When Qi flows freely throughout the body one enjoys good physical, mental and emotional wellbeing.
Cupping uses suction and negative pressure to drain excess fluids, stimulate the parasympathetic nervous system (relaxation) and increase blood flow to muscles and skin. It can be used along Meridians and acupuncture points to clear colds and flus and stimulate specific organs, it can also be used along fascial lines across the body to specifically treat fascia and muscles
Why treat fascia? Fascia is connective tissue (has an appearance like a spider web) that covers everything within our bodies – muscles, bone, nerve, organs etc. – it is the 3D glue that holds everything together.  It is what allows our muscles to slide/glide efficiently.  A fascial dysfunction can restrict range of motion, decrease blood flow to an area, and cause pain and toxin build up.
Cupping is different than most manual therapy in that the majority of other techniques use compression, whereas Cupping decompresses (lifts, separates and stretches) tissue to release adhesions and break down existing scar tissue, relax muscle spasms, and decrease trigger point pain. It has also been shown to decrease tissue changes (scar tissue formation) and inflammation following trauma.
What are the marks left by cupping?
The circular marks left behind from a treatment are not bruises and are rarely sensitive to the touch. They are static blood, lymph, cellular debris and toxins being released from deeper tissue layers. Marks can vary in pattern and color and can last anywhere from 3 days to 2 weeks.
So who can benefit from Cupping?
The short answer is anyone, but especially those with joint or muscle pain/tension, headaches, frequent colds or flu that are not getting the relief they need from regular massage therapy. Cupping is historically very effective in treating chronic overuse injuries such as bursitis, tendonitis and other myofascial pain syndromes such as runner's knee, tennis elbow, and low back pain.
https://kneeclinic.ca/wp-content/uploads/2019/07/cuppingtherapy1.jpg
367
652
kneeclinic
https://kneeclinic.ca/wp-content/uploads/2017/04/kc-logo-solid-300x300.png
kneeclinic
2019-07-17 13:12:23
2023-08-03 06:29:12
What is Cupping and why does Michael Phelps swear by it?