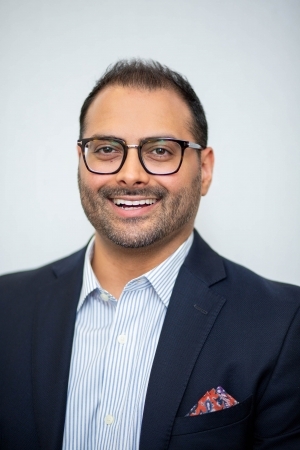 BSc(Kin), DC, ICSC, FRCCSS(C)
Chiropractic Sport Specialist
Specialization
Dr. Karmali is 1 of only 8 chiropractic sports specialists in Alberta. He is a Fellow of the Royal College of Chiropractic Sports Sciences (Canada) representing the culmination of 12 years of training with a post-doctoral emphasis on clinical and field work, exercise physiology, sport nutrition, sport psychology, advanced imaging, and sport specific research, in addition to acute and chronic injury management. Dr. Karmali is also internationally certified by the Fédération Internationale de Chiropratique du Sport.
Sport Performance 
Since 2015, Dr. Karmali has been the Team Chiropractor for the Okotoks Oilers Junior A Hockey Club and provided medical services for the Canadian Junior Hockey League's Top Prospects game in 2019. Dr. Karmali annually provides on site care for athletes participating in the Harvest Half Marathon and Stampede Road Race, utilizing various treatment protocols including Graston® and Active Release Techniques®.
Team Canada
Dr. Karmali served with the medical services team at the 2019 Canada Games in Calgary and Red Deer and was the Sports Medicine Consultant to Team Canada at the 2016 Jubilee Games in Dubai. He also served as a medical staff member for Taekwondo Canada National Championships in 2016.
Leader
In recognition of outstanding achievement and excellence in his contribution to the sports community, sports healthcare, and sports-focused research, Dr. Karmali was the recipient of both the 2020 Award of Excellence and the Jamie Laws Academic Achievement Award from the Foundation for the Royal College of Chiropractic Sports Sciences. Dr. Karmali has been an admissions interview assessor for CMCC's Doctor of Chiropractic program since 2014 and is a member of the RCCSS(C)'s National Sports Organizations Committee. As a former regional board member of the Aga Khan Youth and Sports Board for the Prairies, he provided strategic and operational oversight for youth community ball hockey and soccer leagues in Calgary, mentored youth executive teams that facilitated social and educational programming for their peers, and collaborated with other Boards on the shared mandate of Positive Youth Development.
Rehabilitation and Fitness Consultant
Dr. Karmali is a recognized Exercise is Medicine Canada (EIMC) professional. He has previously worked as a Fitness Consultant at Nexen Inc. and as an Assistant Program Instructor for the University of Calgary's Rehabilitation and Fitness Program for Persons with Disabilities. During his time at the University of Calgary, he gained a solid understanding of how various walking and running biomechanics can lead to injury at the Running Injury Clinic.
Researcher/Author
Dr. Karmali's academic contributions to sports medicine and musculoskeletal research have been published in peer-reviewed Journals:
1] Identification and management of chronic shoulder pain in the presence of an MRA-confirmed humeral avulsion of the inferior glenohumeral ligament (HAGL) lesion
2] Conservative management of MRI-confirmed knee osteoarthritis with instrument-assisted soft-tissue mobilization, joint manipulation, and platelet-rich plasma
3] The efficacy of instrument-assisted soft tissue mobilization for musculoskeletal pain: a systematic review
4] Knowledge and attitudes toward concussion among elite Canadian junior ice hockey players: an exploratory study